Firstly, i'd like to apologise for the long post, bear with me....I have alot to fit in and don't like to post more than once a day :o)
Our new friend
Dennis the Vizsla Dog
has tagged us to play a fun game.....we have to go back through our photos and say what we were doing a year ago.....hmm, let's see....Dennis tagged us on Friday which was 30th January, we've looked and we don't seem to have one for that day, but these were taken on 31st Jan 2008 on our walk at Roseisle. See how our Mum's photography has improved, what do you think? She has of course made a collage! Gabbi has rolled in something- lovely! Click on Dennis's name (above highlighted) to see his "One Year Ago" post.
The next one was taken on 2nd February 2008 (seeing as that's the day we're posting!) It was taken at the same show as we were at on Saturday, Caledonian. Here is Gabbi being taught how to stand nicely so she can win stuff....she won Best Puppy in Breed that day....(but she was the only Beagle puppy entered!!)
We are supposed to tag three others to play. Dennis was clever and tagged three of his newest friends so we're going to copy him!

We tag our three most recent followers:

Carolina
, who writes Brinkbeest, a funny blog which I discovered today after she commented on my Camera Critters post. She lives in the Netherlands and has Labradors, Horses and as far as I can make out, at least two cats!

Nigel, Sola & Co.
from Vermont whose blog is also very funny and has many followers. Labradors and a geeky Greyhound smack-talking each other, hilarious!

Addie and Lucie
from Texas, they have a really sweet blog, Addie is a Border Collie X Great Pyrenees and you can watch her little sister on Lucie cam, it's so cute! They are doing a new contest (see below for details).

We are also going to tag

Stanislaw

, (as Nigel, Sola & Co have been following us for a while, not sure why the followers appear in that order) So anyway, Stan the Man is a Cocker Spaniel who eats a raw diet (like us) and he's a laugh a minute!

So new buddies....tag, you're it!

------------------
When we went back to Dennis's blog today to read his latest post we saw that he has tagged us again! This time it is the Honest Scrap tag, we have to write 10 honest things about ourselves. Samantha,

Holly and Zac's

Mum has also done this recently and left the tag open to anyone who wants to play so she gets a mention too. Our Mum just did the 40 things tag all about herself and it's OUR blog, remember Mum? So, because there's four of us we will do two or three things on each of us....and I suppose we'll let that stinky feline in on the act too! Click on the image below to be taken to Dennis's "honest" post, it's a hoot! (but don't go until you've finished reading, haha!)

Snoop

I once tried to make Gabbi have puppies, the day after that the vet took my plums!
I am a serial growler and not allowed on the bed because of it, not sure why I do it, i'm lovable really!
I am happiest plodding along on the beach, sniffy-tailwagging.

Alfie

My awesome nose used to get me into trouble all the time and I once spent the night on a hill in a blizzard while my humans cried and made posters about me being "missing". They found me in the morning after Mum had stapled the first poster to a tree. I got more cuddles than usual that day.
When we are out walking I rarely leave my Mum's side incase I miss out on a treat, greedy? Mum says it's my greed that got me through my Good Citizens awards!

Rosie

If anyone tries to cuddle me while i'm sitting on the sofa I fall back and lie on my back with legs in the air!
I like to hump....mostly Alfie (such a hunk!) but Snoop is sometimes the object of my affections too....and occasionally Gabbi is lucky enough to have me humping her, I haven't tried it with Gus yet, he doesn't seem that friendly!
Mum says i'm the naughty one, just because I don't like it when my walk ends and she sometimes has trouble getting my lead back on!

Gabbi

I am the fastest eater out of us all, I can demolish a chicken wing in about five seconds and it requires only three chews and a big gulp, then i'm ready for the next one!
I am really clingy towards my Mum and if she goes out without me I yowl and cry and walk round anxiously until she comes back.
I suffer with phantom pregnancies and after a season I apparently have boobs like Dolly Parton....whoever that is!

Gus

No-one really knows how old I am as I came from rescue, I think i'm about 10 human years old. When I came from the slammer I was really badly burnt, I have a big hairless scar on my side which I don't like to be stroked, if you touch it I swipe you with my deadly claws!
I hate dogs and in particular Beagles, which is unfortunate. And Angus....I love to eat spiders!

So there you have it, (more than) 10 honest things about us, thanks for tagging us Dennis, we enjoyed playing both games! If you are not already familiar with Dennis you should go and check him out, he's a funny dude....and he can fly! Click
here
to visit him :o)

We are supposed to tag seven others to play, but we're gonna cheat again....if you want to play, leave a comment, if you're one of the first seven, consider yourself tagged! (unless you've already been tagged, just say!)
-----------------

Dina
has given us the Lemonade Award...... when life throws you lemons....make lemonade! As always, we are saying if you want the award, help yourself!
Thanks Dina! If you haven't visited Dina before, she is Samantha's Mum, therefore

Holly and Zac's

granny, she has a lovely photography blog. She has also set us a challenge....to post a photo of the Loch Ness Monster! We only have one photo of Loch Ness, it was a beautiful sunny day though so Nessie must have been in hiding, she prefers the typical "dreich" Scottish weather!
We'll do our best to catch a glimpse of her next time we're over that way and post if we get a sighting of her, i've heard she's not very photogenic though!
-----------------

We are playing a some new contests, the first is hosted by
Mason Dixie
and it's to design your own blog award (you can get help to do this), send your entries in to Mason by 19th February, the winner will be decided by votes and announced on Mason's birthday, March 10th.
The next one is hosted by Addie and Lucie (clicking on the image should take you to their blog) Send them one of your lovable photos by 21st Feb and you could win a prize, full details are in their sidebar along with the entries so far. The pawprint heart was designed by
Tibby's
Mum, isn't it lovely?
Next up, the Four Musketeers are doing a Sporty Dog contest, send in photos of your dogs looking sporty before 1st of March. Again, clicking on the image below should take you to Lady, Zena, Cody and Joyce's blog.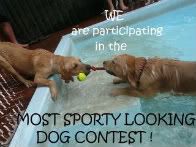 All three blogs are in our blog list and the buttons will go in the sidebar soon too so you can easily get to them :o)
---------------------
Our walk yesterday at Burghead had the most beautiful sunset which i'll include in my Skywatch post on Friday. We didn't really get many photos of anything else!

Through the looking glass.
The sunset was really intense and cast a beautiful glow right along the beach.
Rosie finds a free meal on the beach, Gabbi & Alfie join her to dine....mmmm, thanks Mr Pony!
This video was supposed to capture the serenity of the beach in the evening, with the lovely sunset, the calm water and the peaceful sound of the waves gently lapping the shore.....so I can only apologise for "Gobby Gabbi"!! (she is why the camera's a bit shaky too!)